SPACES OF DESIRE
---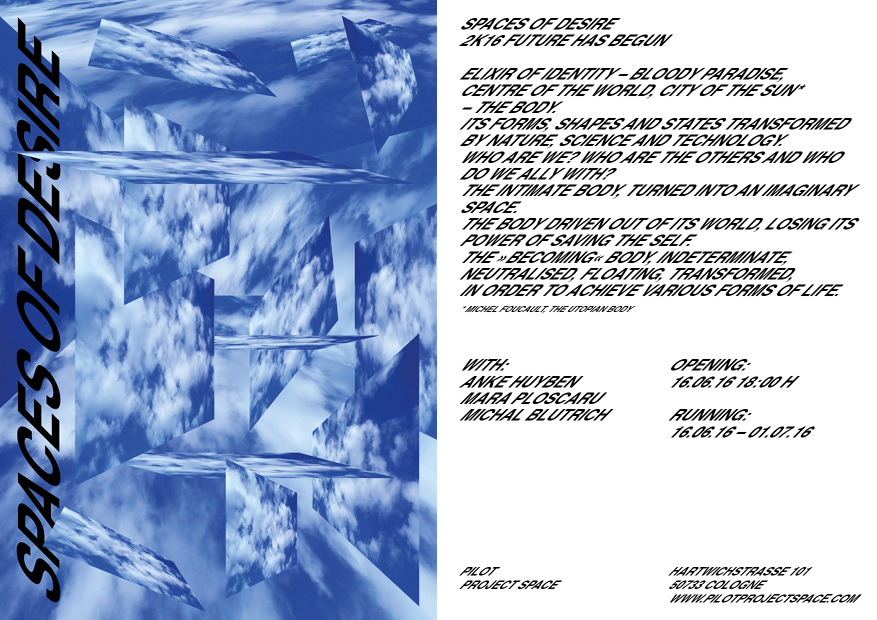 ---
Spaces of Desire2K16
Future has Begun


Elixir of identity – bloody paradise, centre of the world, city of the sun* – the body.
Its forms, shapes and states transformed by nature, science and technology.
Who are we? Who are the others and who do we ally with?
The intimate body, turned into an imaginary space.
The body driven out of its world, losing its power of saving the self.
The »becoming« body, indeterminate, neutralised, floating, transformed,
in order to achieve various forms of life.
---
---
with:Anke Huyben
, born 1986, studied jewellry design at Academie Beeldende Kunsten in Maastricht, lives and works in Rotterdam
www.ankehuyben.com
Michal Blutrich
, born 1986, studied product design at Bezalel Academy of Arts and Design in Jerusalem, lives and works in Berlin
www.michalblutrich.com
Mara Ploscaru
, born 1987, studied visual communication at UNARTE Art University in Bucharest and Photography at Ostrkreutzschule in Berlin, lives and works in Berlin
www.maraploscaru.com
---
OPENING
16.06.2016 – 18:00h

RUNNING
16.06.2016 – 01.07.2016

PERFORMANCE
30.06.2016 – 18:00h
by Julia Haenni – 'Rudeltiere'

ADRESS
PILOT PROJECTSPACE
Hartwichstraße 101
50733 Köln
---